Finding duplicate files
This is an advanced option found under the Tools menu.
fileWATCH offers the ability to locate duplicate files on your system.
They are displayed in the Extra Files tab and may be removed.
1. Main Settings, Watch these folders
Highlight drive(s) or folder(s) to scan for duplicate files.
Right Click for popup menu to edit defined folders.
Use Shift or Control to make multiple selections.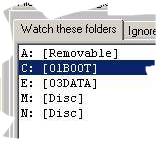 Figure 1. - Highlight folders to scan for duplicate files.
2. Under Tools Menu
Select Find Duplicate Files.
3. Please Wait
The Ready dialog will appear when complete.
4. Report Tab
Browse the Extra Files tab.
Duplicate files are grouped together.
Click here for instructions on how to remove unwanted files.